Apple's WWDC 2017
Phew. What a keynote!
Apple have kicked off WWDC in style with a lengthy but well stocked presentation covering almost every facet of the business - software, hardware and services.
You'll find more extensive rundowns of what was announced elsewhere but here are my personal highlights:
WatchOS
WatchOS 4 will link to gym equipment to track fitness and activity more accurately. This seems like a small thing but this will be great for me. I much prefer to do my running indoors on a treadmill so if I do pick up an Apple Watch in the near future, this could be huge for my own personal aims and goals.
Moving from MacOS Sierra to MacOS High Sierra and announcing it with a couple of references to the "Devil's Lettuce" was bizarre if slightly amusing. It seems this year is aimed at evolution as opposed to revolution, and I think it's telling of Apple's priorities that iOS is seen as the premier operating system at events such as these.
No really, this is the name they're going with.
Key points include the addition of the Apple File System (seen in iOS earlier this year) which should improve speed and security, VR support for more recent Macs, and Macbooks and iMacs along the line are getting a bump to new Kaby Lake Processors. Standard MacOS apps such as Photos, Mail and Notes are getting new features to improve usability but nothing stood out as being particularly spectacular.
The big news for Mac is the introduction of a new iMac Pro. If configured to it's max it will have 18 processor cores, 128GB of RAM and a 4TB SSD. If you opt for such a monstrous spec be prepared to sell your house to pay for it (although no pricing as yet).
iOS
iOS this year is split between iPhone and iPad in a way it hasn't been before. Firstly, both will get a new control centre which fits everything on one panel as opposed to music being shunted off to the side, The App Store is being redesigned with a much cleaner aesthetic and Games are finally getting their own section. iMessage saw plenty of love in iOS 10 and this year gains the ability to send money between contacts using Apple Pay (authenticated by a fingerprint scanner as usual). Siri will soon be able to complete translation from English into a host of languages with pronunciation guides although this will launch in Beta with iOS 11.
One of the bigger new features mentioned is the addition of AR Kit (Augmented Reality) which seems to have been at least partially inspired by Pokemon Go's success last year.
As I mentioned recently,
Apple Music has been found wanting in several areas but one of those is being addressed - your friends will be able to share what they're listening to, fixing what was probably my biggest complaint with the service.
Meet the iOS 11 family
As I alluded to earlier, iOS 11 also has huge changes for iPad – full multitasking (by way of a MacOS-esque app drawer) and the ability to copy text from one app directly into another using drag and drop. You'll also be able to access ANY file stored on the iPad with the new Files app. Its a huge push to help the iPad identify as more of a computer than it has in the past, and I think with MacOS slowly taking a backseat it has my interest more for where it goes from here than anything else.
Speaking of iPads, they announced a new iPad Pro generation which will come in 10.5 inch or 12.9 inch flavours. Whilst the specs have seen a bump I can't see a great deal to tempt me to part ways with my iPad Air 2 - I'm not particularly creative and don't need so much power. As an Apple Fanboy, however, I love the idea of the Pro - maybe time will tell.
And one more thing...
True to form, Apple had one more thing to show - the heavily rumored wireless smart speaker. Named "HomePod" (which has actually grown on me since first hearing it), the idea is that the device is small enough to be placed anywhere and it scans it's location to best decide how to direct it's output into the room. Homepod is powered by Siri and thus integrates with any other Apple device in your home. It also features Apple Music so a simple voice command allows you to pick from 40 million songs. What a time to be alive.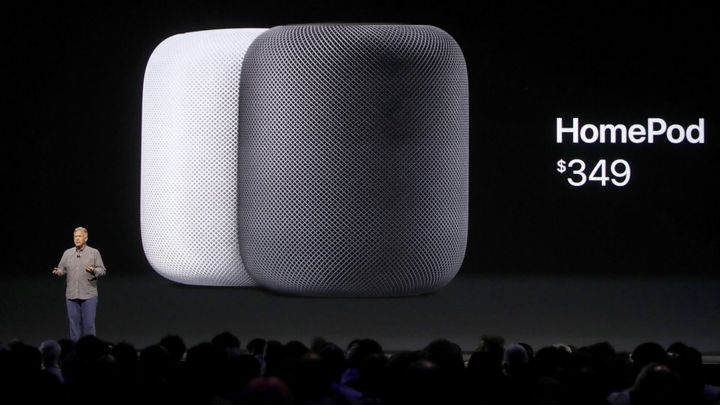 Apple seems convinced it is competitively priced but I think there is a certain "sticker shock" associated with a £349 speaker when Amazon's (allegedly less capable) alternative retails for a lot less. Apple's argument is that you get what you pay for, so we'll see if the Homepod offers bang for your buck when it arrives in December.
So theres my roundup of WWDC 2017. Did anything stand out to you? Are you tempted by the Homepod? Can you convince me to buy the iPad Pro? Leave a comment below!