E3 - Part Two!
A couple of days ago
I went over my big talking points from Microsoft, EA and Bethesda's E3 2017 conferences. While it was a good year (its rare that E3 doesn't excite), nothing hit too hard for me this year. That said, here are my thoughts on Sony, Nintendo and Ubisoft's conferences.
Mario x Rabbids
The worst kept secret in gaming history (short of Assassins Creed: Origins), crossing Mario with the Rabbids seemed like an idea destined to fail. That said, dropping the two sets of characters into combat scenarios reminiscent of X-Com, complete with cover, turn-based strategy and unique team abilities while upgrading equipment as you progress had me instantly intrigued.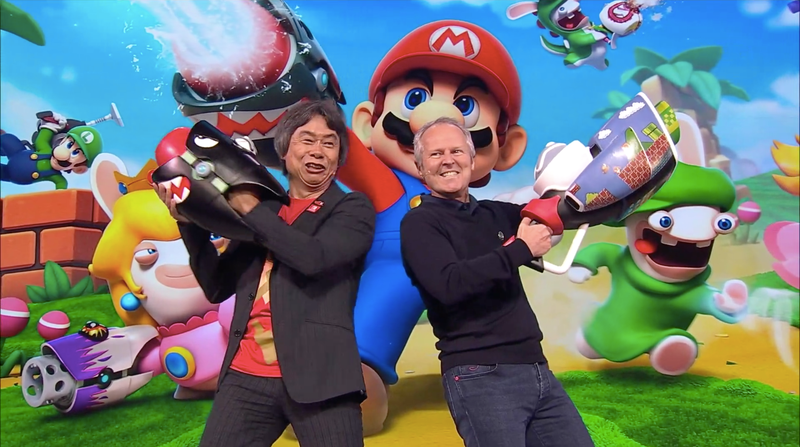 Easily the best photo of E3
Beyond Good and Evil 2
People are super excited for this title. I've not played the first but i'm told its a cult-classic with a huge following. Only a tone piece was shown with no gameplay so we have no idea how far away it is but Michel Ancel's emotional confirmation that the game is coming was certainly one of the more heartfelt moments we saw this year.
God of War
Good grief, God of War looks good. The emphasis on character rather than mindless gore is inspired, but the action now has a weightier and more dangerous feel to it. The scene showing "The World Serpent" looks magnificent, if a bit creepy!
Assassins Creed: Origins
Speaking of serpents, the one at the end of the trailer for AC: Origins looks damn scary. For the first time in a long time, i'm intrigued by an Assassins Creed game. Between giant snakes, the ability to control an eagle and divert an arrow mid-flight to hit your target, it seems Ubisoft is leaning into the mystical side of things - and i'm actually really pleased about that.
South Park
As a huge fan of South Park, I loved the Stick of Truth. Following several delays, the follow-up "The Fractured-but-Whole" (greatest video game title ever) looks like a phenomenal satire of the saturation of superhero properties in Hollywood. The trailer showed some great dialogue moments and confirmed that yes, this game is coming in October of this year.
Just as exciting is that another RPG in the South Park universe seems to be on it's way to mobile phones. "Phone Destroyer" has one of the best trailers at E3 too..
Marvel's Spiderman
My
earlier hope
had been a 2017 release date but this was the most phenomenal conference closer i've seen in years. An extended gameplay demo of an exclusive Spiderman which showed off combat, traversal and set-pieces was one of the standout showings of E3 2017. Watch this and try not to be excited...
Nintendo's Entire E3 Conference
If there is such a thing as a "winner" of E3, you'd be hard-pressed to find a better candidate than Nintendo. Their "Spotlight" was a 24 minute video showing Super Mario Odyssey, Xenoblade Chronicles 2, the aforementioned Mario x Rabbids, Pokken Tournament, Rocket League and Fire Emblem: Warriors ALL coming this year. That's on top of Zelda DLC, too. 2018 will see releases of new Kirby and Yoshi titles as well, so the Switch is looking well stocked.
The biggest news, however, are that Metroid Prime 4 and a core Pokemon RPG are now in development for the Switch. Hopefully we'll see both sooner rather than later!
So there you have it, my top picks from E3 2017. Of my wishlist, I had a few come true - lets hope for a Splinter Cell announcement next year! What were your favourite announcements?