The.. Reverse Spiral?
Hey everyone, another week and another post. Between writing here and at
Squarexo
, I have plenty to keep me busy!
Last weekend was beautiful - Counties played our first show since Tom's death and while bittersweet, I know he was looking down on us. He'd have loved seeing people singing along to our songs, and I can't thank everyone there enough. I was even lucky enough to have not only Frankie but some of my family there too which meant the world.
I also got to see a big group of friends for a couple of birthdays, and it made me consider how thankful I am to call them my friends.
I recently wrote about "The Spiral"
- a chain of events that had knocked my confidence six ways to Sunday.
The good thing about rock bottom is there is only one way to go, and that's up. And up is where i'm headed.
I mentioned back in February that I'd begun writing for SquareXO and today another of my reviews was published. What's important about this one, however, is that I actually reached out to the developer and publisher of the game in question myself - big thank you to everyone at SquareXO because that was pretty much my dream, as simple as that sounds!
I'm also now closer than ever to moving. I have about four different housewarming gatherings planned, but the key thing at the moment is patience - as excited as I am, these things take time. I'll be doing a full blog post about the new home once I move, of course - but for the time being lets just say this is the culmination of months and months of hard work and saving!
I can honestly say that Friday night I received plenty of compliments from people I know and strangers on my performance and also my physique - two things I'd been worrying about. In fact, I went to the gym yesterday morning and found I impressed myself! I've been running new PBs for 5K but think i'll try for 10K this week, wish me luck!
I also have a wedding reception to attend this weekend between two of the kindest people I've ever known. I am so excited for it - even more so than seeing Avengers: Infinity War on Friday.
Oh and the Counties EP we've had in the pipeline for somewhere between 3 and 4 years will be with us this week.
So yeah, things aren't always perfect (i've found they rarely are) but I'm riding that wave. I have so much to be thankful for and just as much to look forward to.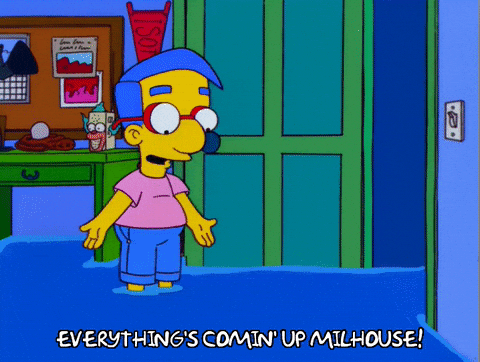 It just goes to show that when you're at your lowest it can be tough to look up, but it gets better. So keep your head up!
L
NOW PLAYING: Like Pacific - Sedatives